Let us talk about the top 10 football players of all time. When it comes to the beautiful game of soccer, fans engage in debates about the greatest players to have ever played the game.
And we could all have our different ideas about who are the best soccer players in football history, but In this post, I will provide a definitive list of the top 10 best soccer players of all time which I'm going to be ranking them based on their skills, impact, titless, and individual honors.
However, if you have ever wondered who are the kings of football of all time, then this post is for you.
READ: 5 Best Players In Saudi Arabia Pro League (2023)
Top 10 Best Soccer Players Of All Time Ranked
Lionel Messi
Cristiano Ronaldo
Pelé
Diego Maradona
Johan Cruyff
Zinedine Zidane
Alfredo Di Stéfano
Franz Beckenbauer
Ronaldo De Lima
Michel Platini
Let's dive right in.
1. Lionel Messi
Lionel Andrés Messi, widely regarded as one of the greatest players of all time, keeps providing a great impression on the world of soccer.
Messi's talent has earned him a place among the immortals of the game winning seven Ballon d'Or awards and six European Golden Shoes to his name. Who knows, he might be winning his 8th Ballon d'Or award sooner.
However, Messi spent his entire professional career with Barcelona, and his achievements with the club were extraordinary. He won a remarkable 34 trophies, including ten La Liga titles, seven Copa del Rey titles, and four UEFA Champions League victories.
Impressively, Messi holds several records, including the most goals in La Liga (474), the most hat-tricks in La Liga and the UEFA Champions League, and the most assists in La Liga and the Copa América.
Plus, he became the top scorer for a single club, tallying an astonishing 672 goals for Barcelona. Messi's international career with Argentina is also illustrious. He holds the record for the most goals scored for his country and has led the team to several notable achievements.
READ: What Is The Trequartista Position In Football? (Best Trequartista Of All-Time)
Among them are winning the 2021 Copa América and reaching three consecutive finals in major tournaments. Messi's skills and influence have drawn comparisons to his compatriot Diego Maradona, and he has continued to wet fans with his left-footed dribbling and goal-scoring qualities.
Off the field, Messi has been an ambassador for sportswear giant Adidas since 2006 and has consistently ranked among the highest-paid athletes globally.
Messi became the first team-sport athlete to win the Laureus World Sportsman of the Year award in both 2020 and 2023, And he is recognized as one of the most influential people in the world by Time magazine. While he has confirmed his move to Inter Miami, we are still waiting for an official announcement.
2. Cristiano Ronaldo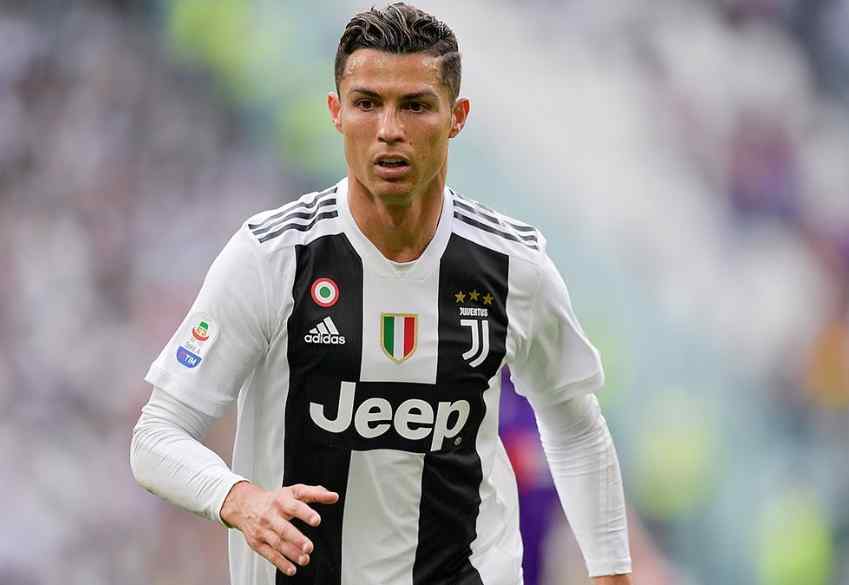 Cristiano Ronaldo's career has been remarkable, and he is regarded as one of the best soccer players of all time.
He is one of Europe's most decorated players having an impressive collection of accolades, winning five Ballon d'Or awards and four European Golden Shoes.
His trophy cabinet boasts 32 titles, including seven league titles, five UEFA Champions Leagues, the UEFA European Championship, and the UEFA Nations League.
He also holds different records, including the most appearances, goals, and assists in the Champions League, as well as the most goals in the European Championship and on the international stage. In fact, he is the only player to have scored in five different FIFA World Cup tournaments.
His professional journey began with Sporting CP before he joined Manchester United in 2003. At United, he achieved remarkable success, winning three consecutive Premier League titles, the Champions League, and the FIFA Club World Cup.
READ: What Is Raumdeuter Position In Football, Role, And Best Players?
His performances earned him his first Ballon d'Or at the age of 23. In 2009, Ronaldo made a historic transfer to Real Madrid for €94 million, becoming the most expensive footballer at the time.
His tenure at Real Madrid was a success, winning four Champions League and becoming the club's all-time top scorer.
In 2018, Ronaldo transferred to Juventus for €100 million, becoming the most expensive player over 30 years old and the most expensive transfer for an Italian club.
During his time in Italy, he won two Serie A titles and several individual awards. In 2021, Ronaldo returned to Manchester United before eventually signing with Al Nassr in 2023.
Furthermore, Ronaldo's impact on Portugal has been exceptional as he is the country's most-capped player with 200 appearances and the all-time leading goal scorer.
He has participated in eleven major tournaments and played a crucial role in Portugal's victory at Euro 2016 and the inaugural UEFA Nations League in 2019.
3. Pelé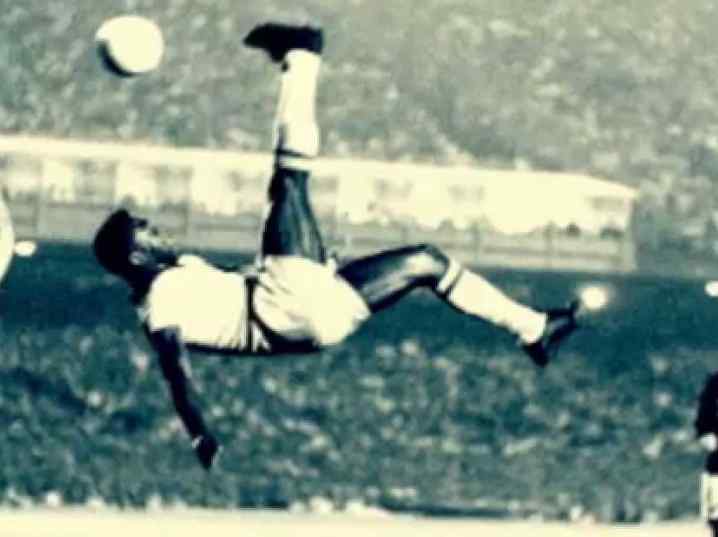 You can say that Pelé is one of the kings of football. And he is one of the greatest players to ever play the game. Throughout the 20th century, Pelé established himself as one of the most successful and popular figures in soccer.
He won numerous honors, including being named Athlete of the Century by the International Olympic Committee in 1999. He is also listed as one of the 100 most important people of the 20th century by Time magazine.
Pelé won three FIFA World Cups with Brazil in 1958, 1962, and 1970, making him the only player to achieve this feat and the youngest to win a World Cup at the age of 17.
He earned the nickname "O Rei" (The King) after the 1958 tournament and remains Brazil's joint-top goalscorer with 77 goals in 92 games.
READ: Top 6 Cristiano Ronaldo Best Seasons
At the club level, Pelé played for Santos and became their all-time leading goalscorer with 643 goals in 659 games. He led Santos to victories in the Copa Libertadores and Intercontinental Cup.
Pelé's electrifying play, spectacular goals, and international popularity contributed to his status as a global football star. He was renowned for his skill, versatility, and ability to score with both feet.
4. Diego Maradona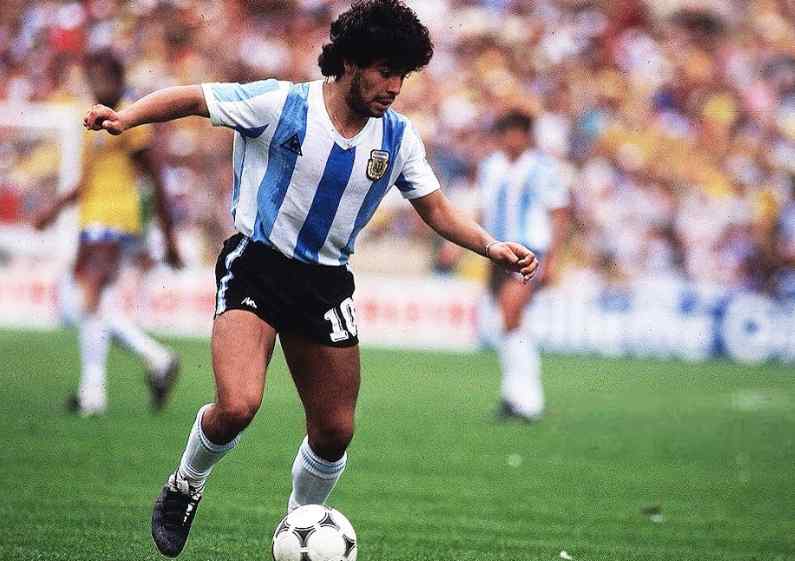 Diego Armando Maradona is known for his vision, passing, ball control, and dribbling skills. I used to wonder how silky he moved the ball amidst thousands of players, but the truth is his small stature allowed him to maneuver adeptly on the field.
Without a doubt, he is one of the best soccer players of all time. His presence had a major impact on his team's performance, often drawing special attention from opponents.
He was a prodigious talent whose career was marked by both brilliance and off-field controversies, including drug-related bans in 1991 and 1994.
Maradona twice set the world record transfer fee: in 1982 when he moved to Barcelona for £5 million and in 1984 when he joined Napoli for £6.9 million.
Maradona achieved legendary status during his time at Napoli, winning different honors. Talking about his international performance, he earned 91 caps and scored 34 goals.
He played in four FIFA World Cups, captaining Argentina to victory in the 1986 tournament in Mexico, where he delivered a virtuoso performance.
In the quarterfinals against England, he scored two iconic goals, one famously known as the "Hand of God" and the other a breathtaking solo effort regarded as the "Goal of the Century."
READ: Red Bull Football Teams Around the World
5. Johan Cruyff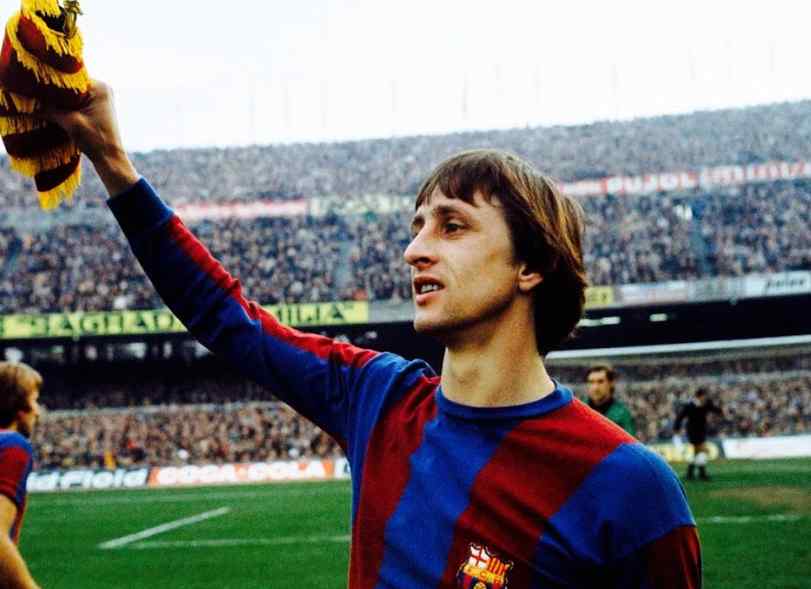 Johan Cruyff was a Dutch sensation professional football player and manager who is widely regarded as one of the greatest players of all time.
He began his career at Ajax, where he won many Eredivisie titles, three European Cups, and one Intercontinental Cup.
Then he made a world record transfer to Barcelona in 1973, guiding the team to a La Liga victory in his first season and winning another Ballon d'Or award. He won the Ballon d'Or award three times, in 1971, 1973, and 1974, highlighting his skills and contributions to the game.
However, Cruyff embraced the football philosophy of Total Football, developed by Rinus Michels, and later implemented it as a manager.
His playing style and coaching ideas had a profound impact on modern football, earning him recognition as one of the most influential figures in football.
He is considered one of the greatest managers of all time for his accomplishments in coaching. During the late 1960s and early 1970s, Dutch football experienced a great transformation from a semi-professional level to becoming a dominant force in the game.
6. Zinedine Zidane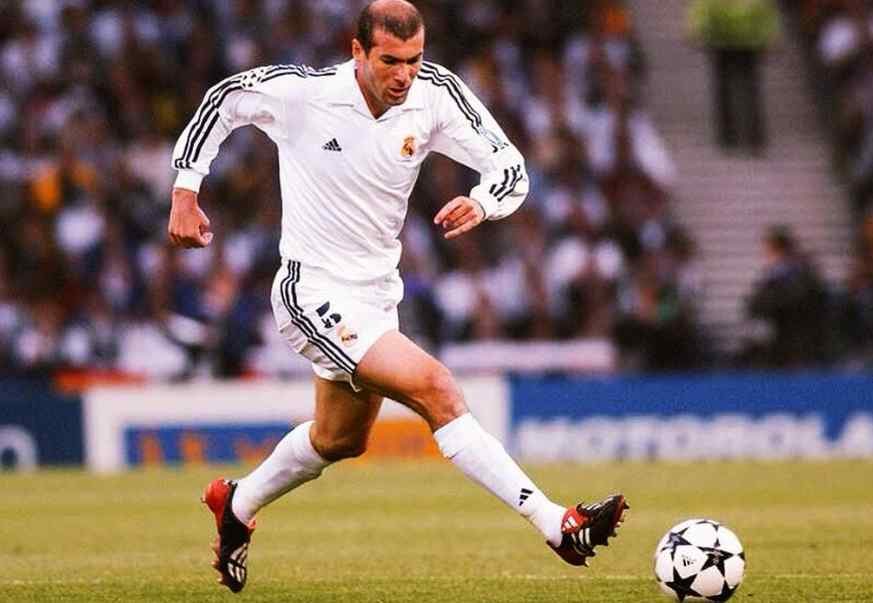 Zizou, which I like to call him, was an exceptional attacking midfielder during his days, you might not have watched him play though but I want to assume you know the success he recorded as a coach.
He was recently the coach of Real Madrid, where he established himself as one of the world's most accomplished coaches. Zidane is regarded as one of the greatest players of all time, known for his elegance, and technique
He won many individual honors during his playing career, including being named FIFA World Player of the Year in 1998, 2000, and 2003, as well as winning the Ballon d'Or in 1998.
However, he began his career at Cannes before emerging as one of the top players in the French Ligue 1 with Bordeaux.
In 1996, he joined the Italian club Juventus, and he won lots of trophies, which include two Serie A titles. Also, In 2001, Zidane made a world-record transfer to Real Madrid for €77.5 million, a fee that remained unmatched for eight years.
READ: Teams Never Relegated From The Premier League
During his time in Spain, he added more titles to his name, winning a La Liga championship and the UEFA Champions League.
And if I'm to dive deep into the UEFA Champions League final in 2022, he scored a remarkable left-footed volley that is regarded as one of the greatest goals in the history of the competition.
Well, it's not just his club performances that made me rank him among the best of all time, he played 108 matches for the French national team.
He was extraordinary in their victory in the 1998 FIFA World Cup, scoring two goals in the final and earning a spot on the All-Star team. Zidane also won UEFA Euro 2000, and he was named the Player of the Tournament.
Despite being sent off for headbutting Marco Materazzi in the 2006 World Cup final, he was still awarded the Golden Ball as the tournament's best player. At the time of his retirement, Zidane ranked fourth in terms of caps for the French national team.
With that said, Zidane's accomplishments were recognized with different awards, including his inclusion in Pelé's FIFA 100 list of the world's greatest living players and being named the best European footballer of the past 50 years in the UEFA Golden Jubilee Poll.
In fact, he is one of only nine players to have won the World Cup, the Champions League, and the Ballon d'Or.
7. Di Stéfano
Di Stéfano is best remembered for his immense contributions to Real Madrid's domination of the European Cup and La Liga in the 1950s and 1960s. He was instrumental in all five of Real Madrid's European Cup victories, scoring goals in each final.
Also, Di Stéfano represented Argentina, Colombia, and primarily Spain at the international level. Di Stéfano began his career at River Plate in Argentina before briefly joining Club Atlético Huracán.
However, due to a footballers' strike in Argentina, he moved to Millonarios in Colombia, where he achieved success, winning six league titles.
After joining Real Madrid, Di Stéfano became an integral part of one of the most successful teams in history. He formed a great partnership with Ferenc Puskás and scored 216 league goals in 282 appearances for the club.
READ: 8 Best Female Soccer Players In The World (2023)
Di Stéfano held the record for the highest goal tally in the European Cup with 49 goals in 58 matches, a record subsequently surpassed by other Real Madrid players.
One of his standout moments was in the 1960 final when Real Madrid defeated Eintracht Frankfurt 7-3, widely considered one of the greatest displays of club football in Europe.
Though he won the Ballon d'Or as the European Footballer of the Year in 1957 and 1959. He remains the sixth-highest scorer in the history of Spain's top division and is among Real Madrid's top league goalscorers.
Plus, the most goals in El Clásico alongside Cristiano Ronaldo.
8. Franz Beckenbauer
Beckenbauer is one of the greatest in football history both as a player and as a coach. He used to be a versatile midfielder before he later played as a central defender and is credited with inventing the role of the modern sweeper (libero).
He is part of an elite group of players who have won the FIFA World Cup, the UEFA Champions League, and the Ballon d'Or.
Beckenbauer represented West Germany, registering 103 caps, and participated in three World Cups and two European Championships.
In 1974, he became the first captain to lift both the World Cup and the European Championship at the international level.
Remarkably, he also won the World Cup as a manager in 1990, joining a select group of individuals to achieve this incredible success.
He was named European Footballer of the Year twice and was included in prestigious teams such as the World Team of the 20th Century, the FIFA World Cup Dream Team, and the Ballon d'Or Dream Team.
At the club level, Beckenbauer enjoyed immense success with Bayern Munich. He won the European Cup Winners' Cup in 1967 and captained the team to three consecutive European Cup victories from 1974 to 1976.
This made him the first player to achieve this feat as a club captain. Beckenbauer later became the team manager and president of Bayern Munich.
In addition to his achievements in football, he played for the New York Cosmos and was inducted into the U.S. National Soccer Hall of Fame.
READ: 10 Soccer Players Who've Won The Most Trophies
9. Ronaldo De Lima
de Lima Ronaldo or Ronaldo Nazário is a true definition of what fans could call the beauty of the game. Unfortunately, he can not play for life, and now, he is a business owner and club president.
Like I used to call him R9, revolutionized the striker position with his versatility and skills. He has been a major influence on generations of strikers.
de Lima's incredible performances in all games won him three FIFA World Player of the Year awards and two Ballon d'Or titles.
Starting his career at Cruzeiro, Ronaldo moved to PSV Eindhoven in 1994 before joining Barcelona in 1996 for a world-record transfer fee.
At just 20 years old, he became the youngest player in the FIFA World Player of the Year award, and he won the Ballon d'Or at the age of 21, becoming the youngest winner in history.
In 1997, Inter Milan signed Ronaldo, breaking the world transfer record for the second time. In fact, he had already scored over 200 goals for both club and country at just 23 years.
However, his career was plagued by knee injuries that kept him inactive for nearly three years. Ronaldo later played for Real Madrid, AC Milan, and Corinthians before retiring in 2011 due to further injury setbacks.
Furthermore, R9 was instrumental in Brazil's triumph at the 1994 FIFA World Cup at the age of 17. Despite suffering a convulsive fit before the final of the 1998 World Cup, he won the Golden Ball as the tournament's best player.
Then he won his second World Cup victory in 2002, winning the Golden Boot as the top goalscorer.
10. Michel Platini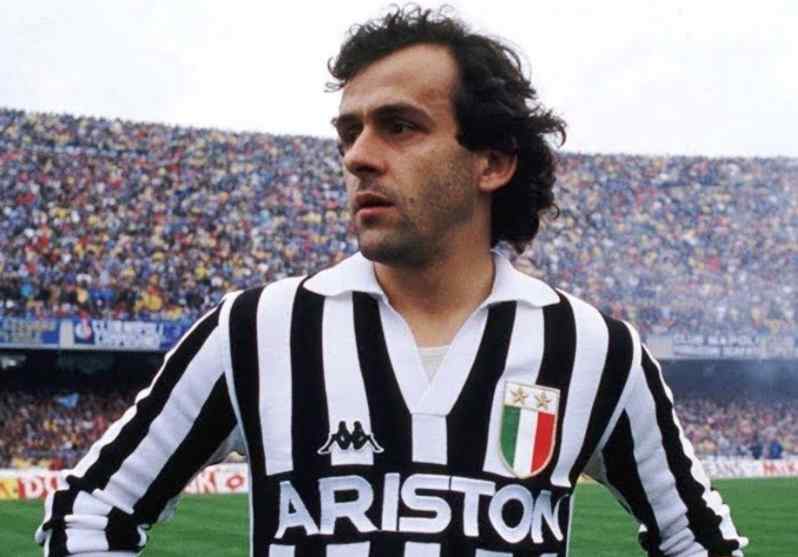 Michel François Platini is a French football legend, renowned for his football skills as a player and his role as a football administrator.
Platini was a successful player, winning the Ballon d'Or award three times consecutively from 1983 to 1985. He was recognized as one of the greatest footballers of all time and ranked seventh in the FIFA Player of the Century vote.
In acknowledgment of his accomplishments, he won honors such as the Chevalier of the Légion d'honneur in 1985 and later became an Officer in 1998.
READ: 10 Best Soccer Jerseys Of All Time That Will Fascinate You
Platini's playing career saw him play for clubs like Nancy, Saint-Étienne, and Juventus. He won the Serie A Capocannoniere award three times in a row from 1983 to 1985 and was an integral part of Juventus's triumphant 1984-85 European Cup campaign, emerging as the tournament's top scorer.
Platini was also a key player in the French national team's success, helping them win the 1984 European Championship. And he was the top scorer and was named the tournament's best player.
Alongside Alain Giresse, Luis Fernández, and Jean Tigana, Platini formed the known "magic square" of the French team during the 1980s.
He held the record for the most goals scored for France until 2007 and also held the record for the most goals (9) scored in the European Championship until Cristiano Ronaldo surpassed it in 2021, despite his participation only in the victorious 1984 edition.
After retiring as a player, Platini coached the French national team for four years. He made history in 2007 when he became the first former player to be elected as the president of the Union of European Football Associations (UEFA).
He also held notable positions such as chairman of FIFA's Technical and Development Committee and vice-president of the French Football Federation.
However, in 2015, Platini faced a ban from football activities due to ethics violations, imposed by FIFA, which will last until 2023.
Conclusion
You have my Top 10 best soccer players of all time list which include Lionel Messi, Cristiano Ronaldo, Pelé, Diego Maradona, Johan Cruyff, Zinedine Zidane, Alfredo Di Stéfano, Franz Beckenbauer, Ronaldo De Lima, and Michel Platini.
These players have recorded great performances and won lots of individual and team honors. While opinions may vary on the rankings, no doubt, these players have contributed to football and are widely regarded as some of the greatest footballers of all time.