In this post, I will list, and discuss the best soccer players in the world in 2023. I will be ranking these players based on their performances in the 2022/2023 season, and at the end of this post, you will know the kings of football in 2023.
Best Soccer Players In The World Right Now
Lionel Messi
Erling Haaland
Karim Benzema
Kylian Mbappé
Robert Lewandowski
Victor Osimhen
Lautaro Martínez
Abderrazak Hamdallah
Martin Odegaard
Khvicha Kvaratskhelia
Let's get to it.
READ: Top 10 Best Soccer Players Of All Time Ranked
1. Lionel Messi
In Paris, under new coach Christophe Galtier, Lionel Messi settled in and returned to his preferred attacking role as a playmaker behind two strikers.
He quickly regained his form, scoring PSG's first goal in a victory over Nantes in the Trophée des Champions and winning his second trophy with the club.
Despite his impressive performance, Messi was not nominated for the Ballon d'Or award for the first time since 2005. He continued to excel, providing a long-range assist and scoring a goal in a win over Lille.
In September, he was named Ligue 1's Player of the Month after contributing six goals and assists. Messi also made history by becoming the only player in the Champions League to score against 40 different opponents and set a record for the most goals scored from outside the 18-yard box.
He continued to shine, surpassing Cristiano Ronaldo as the all-time highest goalscorer in European club football and achieving 1,000 career direct goal contributions.
However, Messi faced criticism and suspension after an unauthorized trip to Saudi Arabia, leading to speculation about his departure from PSG.
He apologized and helped PSG secure their 11th Ligue 1 title before confirming his departure from the club. Messi signed with Inter Miami in Major League Soccer, ending his chances of returning to Barcelona due to financial constraints.
READ: Ankara Messi Commentary, Meaning, And Origin
2. Erling Haaland
Manchester City signed Erling Haaland from Borussia Dortmund on 10 May 2022, after activating his €60 million release clause.
The deal was formalized on 13 June, and Haaland joined the club on 1 July with a five-year contract. He made his competitive debut in the 2022 FA Community Shield, playing 90 minutes in a 3-1 defeat to Liverpool.
Haaland had an impressive start to the Premier League, scoring two goals on his league debut against West Ham United and recording his first Premier League hat-trick against Crystal Palace.
He continued his outstanding performance, scoring another perfect hat-trick in a win against Nottingham Forest and becoming the quickest player in Premier League history to score two hat-tricks.
He was then named Premier League Player of the Month for August. In the Champions League, Haaland made his debut for Manchester City and became the first player to score 25 goals in 20 appearances.
He set multiple records in the Premier League, including scoring a hat-trick in three successive home games and becoming the fastest player to score 20 goals.
Haaland surpassed the previous season's top scorers, Mohamed Salah and Son Heung-min, by reaching 25 Premier League goals in just 19 games.
Haaland never stops performing at his best, scoring five goals in a single Champions League match against RB Leipzig, breaking City's single-season goal-scoring record, and joining Messi and Ronaldo as the only players to score at least 10 goals in multiple Champions League campaigns.
He achieved his sixth hat trick of the season in an FA Cup match against Burnley, surpassing the 40-goal mark across all competitions.
Haaland broke Ruud van Nistelrooy and Mohamed Salah's record for most goals in a season across all competitions, reaching 45 goals in Manchester City's quarter-final match against Bayern Munich.
He scored his 50th goal of the season in a game against Fulham. Haaland broke Alan Shearer and Andy Cole's joint record for the most goals scored in a Premier League season by scoring his 35th goal in his 31st appearance against West Ham.
He was named FWA Footballer of the Year in his debut season, winning the award by a record margin. Haaland won the Premier League title with Manchester City and equaled Thierry Henry's record for most goals and assists in a 38-game season.
He also won the European Golden Shoe and the Premier League Golden Boot, setting a record for the highest number of goals scored in a Premier League season with 36 goals from 35 appearances.
READ: Top 11 Soccer Players With Long Hair – 2023
3. Karim Benzema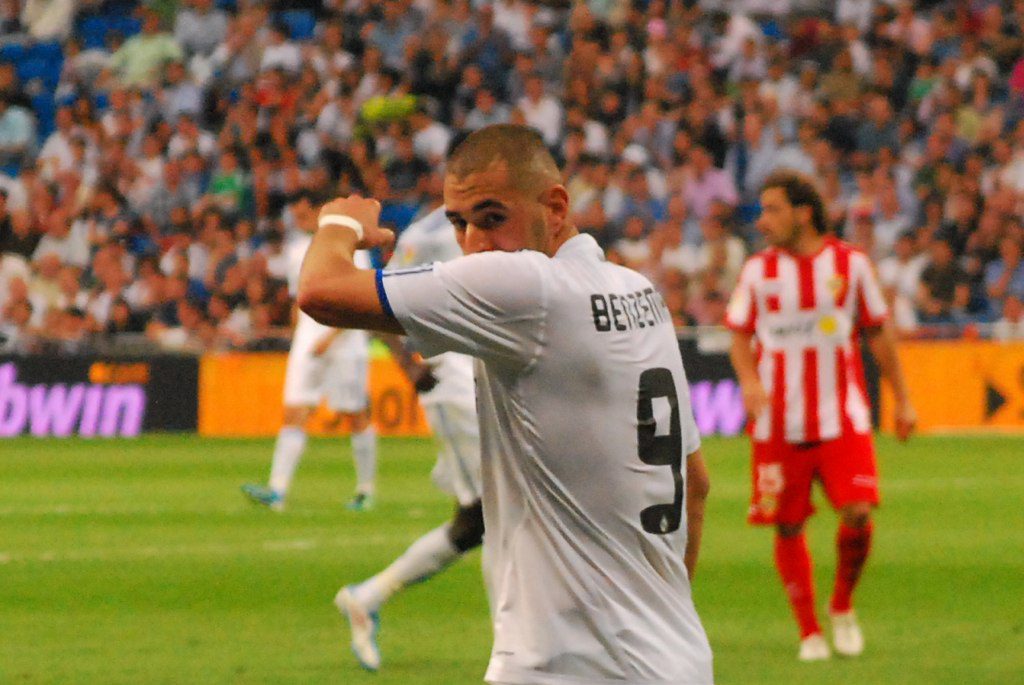 On 10 August 2022, Benzema scored in the UEFA Super Cup match against Eintracht Frankfurt, surpassing Raúl as Real Madrid's second-highest goalscorer with 324 goals.
And on 2 April 2023, Benzema achieved a remarkable feat by scoring a hat-trick in just 6 minutes and 30 seconds during a 6-0 victory over Real Valladolid in La Liga.
This made him the third fastest hat-trick scorer in Real Madrid's history, behind Pahiño and Fernando Hierro. Only three days later, he recorded back-to-back hat-tricks in a 4-0 away win against Barcelona in the Copa del Rey semi-finals.
This made him the second Real Madrid player, after Iván Zamorano in 1995, to achieve this in El Clásico. He also became the second Real Madrid player to score a hat-trick at the Camp Nou, following Ferenc Puskás in 1963.
Benzema contributed to Real Madrid's success by winning the Copa del Rey final against Osasuna on 6 May. However, on 4 June, it was confirmed that Benzema would be leaving Real Madrid at the end of the 2022-23 season.
In his last game against Athletic Bilbao, he received a warm reception from the Madrid fans and scored before being substituted in the 74th minute to an ovation from the supporters.
On 6 June 2023, Al-Ittihad, a Saudi Professional League club, announced the signing of Benzema on a free transfer. Two days later, he was formally presented as their new signing at a grand ceremony held at the King Abdullah Sports City, which was attended by a large number of fans.
4. Kylian Mbappé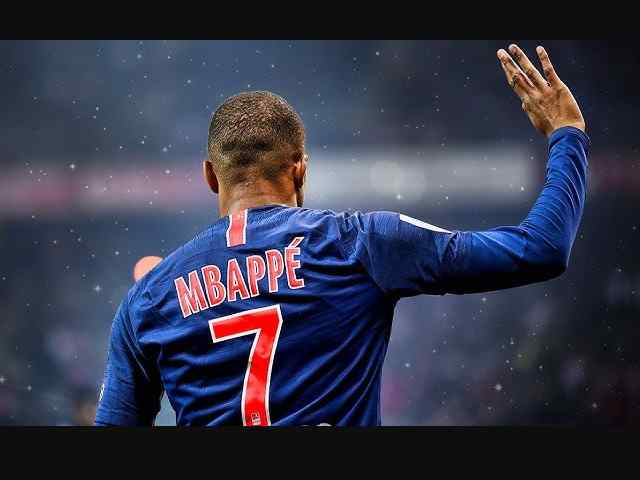 On 23 January 2023, Mbappé achieved a historic feat by becoming the first PSG player to score five goals in a single match, including a ten-minute hat-trick, during a 7-0 victory over Pays de Cassel in the Coupe de France round of 32.
Mbappe became the club's joint all-time top goalscorer with 200 goals, matching Edinson Cavani's record in a match against Marseille where he scored two goals and provided an assist.
And In the match against Nantes, Mbappé surpassed Cavani's record by scoring his 201st goal for PSG. Mbappé finished the Ligue 1 campaign as the league's top scorer for the fifth consecutive season, netting 29 goals while helping PSG secure their record 11th Ligue 1 title.
He also won the Ligue 1 Player of the Year award for the fourth consecutive season and earned a place in the Ligue 1 Team of the Season.
Without a doubt, Kylian Mbappé is one of the football kings of 2023.
READ: Top 5 Premier League Longest Unbeaten Run
5. Robert Lewandowski
If you are talking about the football kings in 2023, Robert Lewandowski shouldn't be ignored. With his prolific goal-scoring, important contributions to Barcelona's success, and impressive records, Robert Lewandowski establishes himself as one of the best players in the world in 2023.
He made a strong start to his career with Barcelona, scoring his first-ever goal for Barcelona in a 6-0 victory over Mexican club UNAM in the Joan Gamper Trophy pre-season match at Camp Nou.
Then he made his competitive debut in a league match against Rayo Vallecano, which ended in a 0-0 draw.
However, Lewandowski quickly reminded us of his goal-scoring qualities, netting his first competitive goal for Barcelona in a 4-1 victory over Real Sociedad on 21 August, where he scored a brace.
He followed it up with another brace in a 4-0 win against Real Valladolid on 28 August.
In his Champions League debut for Barcelona, he made history by scoring a hat-trick in a 5-1 triumph over Viktoria Plzeň, becoming the first player ever to achieve a Champions League hat-trick for three different clubs.
Continuing his impressive form, Lewandowski broke Cristiano Ronaldo's La Liga record by scoring his sixth league goal of the season in just his sixth league match against Cádiz.
Lewandowski's impact was felt in the Champions League as well, as he scored a crucial brace against Inter Milan, including a last-minute equalizer that secured a 3-3 draw for Barcelona at Camp Nou.
Though Barcelona finished third in the group stage, relegating them to the Europa League knockout round playoffs for the second consecutive season, his five goals in the competition were impressive
Despite facing a temporary setback with a red card and suspension, Lewandowski returned to action, scoring the second goal in the 2023 Supercopa de España final, where Barcelona triumphed over Real Madrid with a 3-1 victory, winning his first title with the club.
He continued his stellar performances, scoring two goals in a 4-2 win against Espanyol, ultimately securing the La Liga title for Barcelona.
Lewandowski's exceptional goal-scoring abilities were recognized as he won the Pichichi Trophy, awarded to the top scorer in La Liga, with 23 goals in 34 matches by the end of the 2022-23 season.
Notably, he became the first player in the top five European leagues to secure the top scorer award for six consecutive seasons.
READ: 5 Best Players In Saudi Arabia Pro League (2023)
6. Victor Osimhen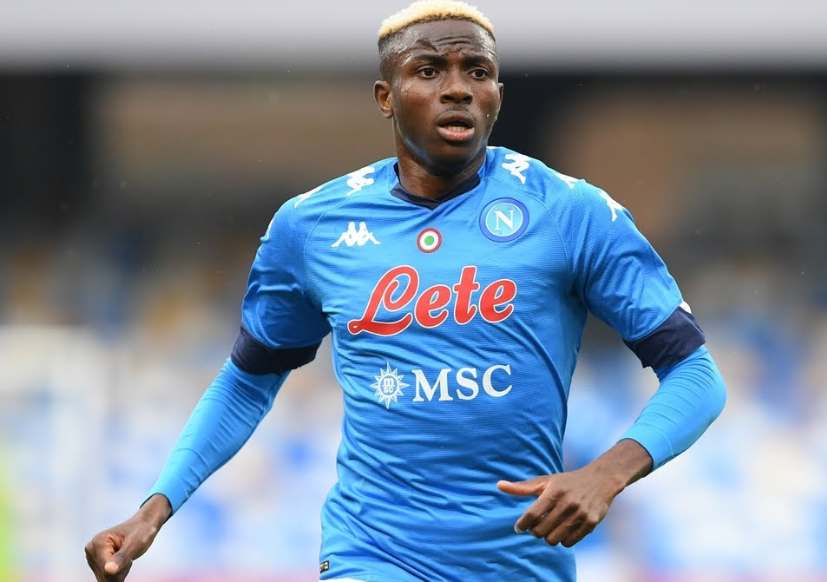 Victor Osimhen has established himself as one of the best players in the world right now with his outstanding performances for Napoli in 2023.
Osimhen scored his first Champions League goal for Napoli in a crucial 4-2 victory over Ajax, securing their qualification to the knockout phase on 12 October 2022.
Plus, he recorded his first Serie A hat-trick in a dominant 4-0 win against Sassuolo on 29 October. Impressively, on 11 November he scored a goal and provided an assist to help Napoli in a 2-1 victory against Atalanta.
With his performances in that match, he surpassed Simy's record and became Nigeria's highest goal scorer in the Italian Serie A with 32 goals.
On 13 January 2023, Osimhen played an important role in Napoli's 5-1 win over Juventus, contributing two goals and an assist.
He reached a career milestone on 17 February, scoring his 100th career goal and helping Napoli secure a 2-0 victory against Sassuolo.
Additionally, he became the first player in Napoli's history, during the three-point era, to score in seven consecutive league games.
In the Champions League round of 16, Osimhen's talent shone through as he scored three goals over two legs against Eintracht Frankfurt, leading Napoli to a 5-0 aggregate victory and their first-ever qualification to the quarter-finals.
If you ask me, Osimhen's contributions were important in Napoli's historic season. He even scored the equalizer in a 1-1 draw against Udinese, securing Napoli's Serie A title after a 33-year wait.
However, Osimhen became the joint-highest goal-scoring African player in Serie A alongside George Weah, and also set a new record for the most goals by an African player in a single Italian championship season, surpassing Samuel Eto'o.
He finished as the league's top scorer, netting an impressive 26 goals and becoming the first African player to achieve this feat.
7. Lautaro Martínez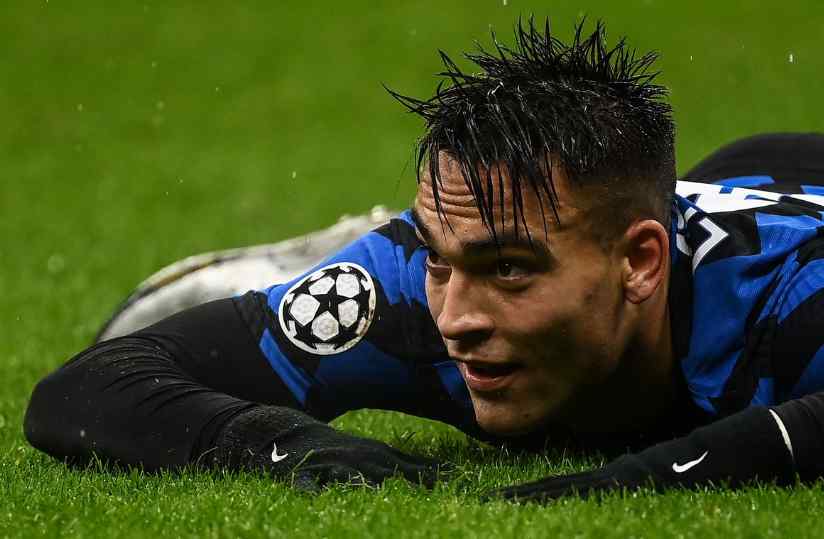 Lautaro Martínez is one of the standout performers in the Serie A 2022/2023 season, with 21 goals in 38 matches, Martínez has proven to be one of the football kings in 2023.
Impressively, Martínez's goal-scoring has been evenly distributed between home and away games, with 12 goals scored in front of the home crowd and 9 goals away from home.
What truly highlights his proficiency is his goal-scoring rate per 90 minutes, averaging an impressive 0.73 goals. However, Martínez's impact extends beyond scoring goals alone.
With a total of 27 goal involvements (goals + assists) for the season, he showed his ability to contribute significantly to his team's success.
His goal involvement per 90 minutes stands at an impressive 0.94. Martínez's accuracy in front of goal is equally noteworthy.
READ: What Is The Trequartista Position In Football? (Best Trequartista Of All-Time)
Out of 101 shots taken in the Serie A season, an impressive 52 shots have found their mark, resulting in a shooting accuracy of 51.49%.
Remarkably, he manages to find the back of the net with every 4.81 shots attempted, proving his clinical finishing ability. Furthermore, he maintains an impressive average of 3.53 shots per 90 minutes.
Also, Martínez averages approximately 22.93 passes per game, with a pass completion rate of 75.46%. His ability to play 1.64 key passes per game helps him create scoring chances for his team.
Martínez's ability to consistently deliver outstanding performances in the Serie A 2022/2023 season positions among the best soccer players in the world right now.
8. Abderrazak Hamdallah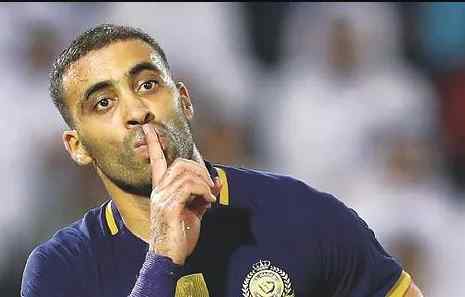 Abderrazak Hamdallah has emerged as one of the best soccer players right now with his remarkable goal-scoring abilities.
Having appeared in 26 matches for a total of 2321 minutes, Hamdallah has made a lasting impact on the pitch. He consistently proves himself as a lethal force in the attacking third with an average of 0.81 goals per 90 minutes played.
This impressive scoring rate places him in the 3rd position out of 339 Professional League players who have participated in at least 3 matches. Hamdallah's goal-scoring has been nothing short of sensational.
He leads the Al Ittihad squad's Top Scorers list with a total of 21 goals so far this season. In addition to his impressive scoring record, he has also provided vital support to his teammates with 3 assists in the 26 matches played.
READ: What Is Raumdeuter Position In Football, Role, And Best Players?
9. Martin Ødegaard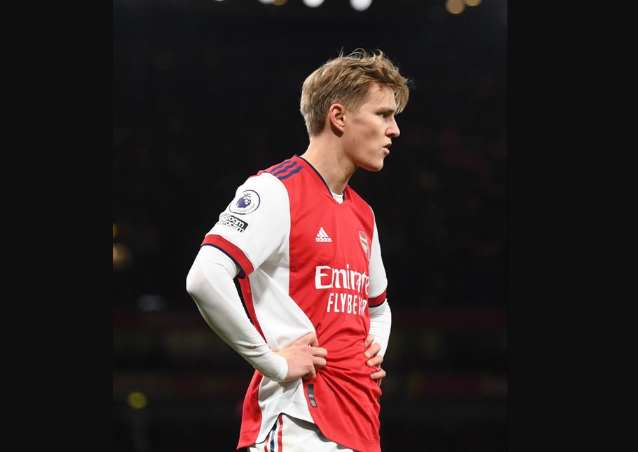 Ødegaard's performance for the Arsenal football club in the 2022/2023 season was a great one, and I consider him to be one of the best soccer players in 2023.
Having found the back of the net 15 times this season, he ranks 2nd in the Arsenal squad's Top Scorers list.
In terms of overall attacking involvement, Ødegaard boasts a goal involvement rate of 0.63 per 90 minutes played, highlighting his impact on Arsenal's offensive strategies.
His Non-Penalty goal output of 10.73 places him in the top 95 percentile of Premier League players, further underscoring his proficiency in creating and converting goal-scoring opportunities.
Shooting accuracy is another area where Ødegaard wow me. Out of 60 shots taken this season, 33 have been on target, resulting in a commendable shooting accuracy of 55.00%.
He averages a goal for every 4.00 shots attempted, further highlighting his clinical finishing ability. Ødegaard's 84.11% pass completion rate and 2.23 key passes per game showed his ability to distribute the ball effectively.
With an expected assists output of 0.30 per 90 minutes played, Ødegaard's creativity surpasses 95% of players in the Premier League.
10. Khvicha Kvaratskhelia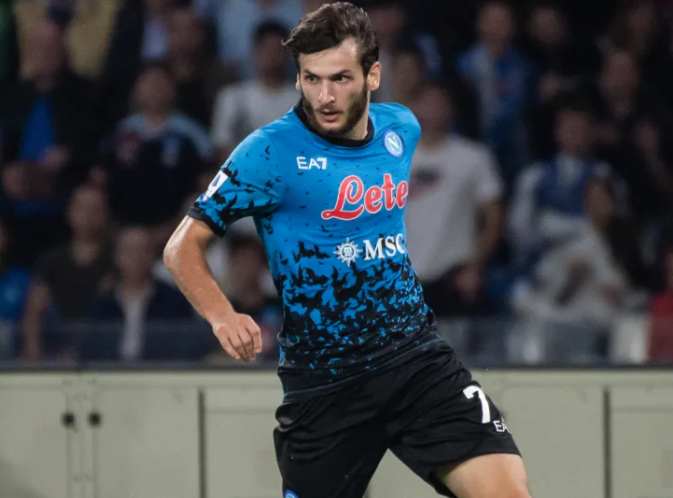 Khvicha Kvaratskhelia is one of the most promising talents in the game. Since his arrival at Napoli from Dinamo Batumi, the Georgian sensation has taken the league by storm with his exceptional performances.
These performances moved him to the top of the Serie A top scorers' list, making him the first player in Napoli's history to score three goals in the opening two league matches.
His incredible performances were not limited to domestic competitions, as he displayed his talent in the UEFA Champions League.
On 4 October, he scored his first Champions League goal in a remarkable 6-1 away victory over Ajax.
In February 2023, his contributions of three goals and an assist earned him the Serie A Player of the Month award for a second time, a remarkable feat that made him the first player to win the award multiple times in the same season.
READ: Top 10 Incredible Highest Jumps In Football History (Ultimate List)
The following month brought even more recognition as he received another Serie A Player of the Month award, as well as the prestigious trophy from the Italian Footballers' Association.
Additionally, his stunning goal against Atalanta on 11 March earned him the coveted Serie A Goal of the Month award.
The performances of Kvaratskhelia did not go unnoticed, as he was named the player of the season in Serie A on 2 June 2023. His contributions to Napoli's success and his brilliance made him a standout performer throughout the campaign.
Conclusion
There you have the best soccer players in the world right now, and if you have ever asked: Who is the king of football in 2023?
Here are the kings of football in 2023; Lionel Messi, Erling Haaland, Karim Benzema, Kylian Mbappé, Robert Lewandowski, Victor Osimhen, Lautaro Martínez, Abderrazak Hamdallah, Martin Odegaard, and Khvicha Kvaratskhelia.
These players have proven themselves to be among the best in the world in 2023, proven their skills, and contributions to their respective teams.
Related